1922: Goembel Aviation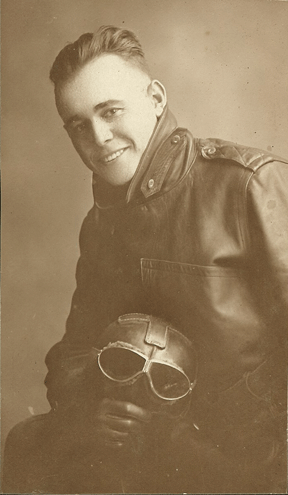 William Philip "Phil" Goembel, shown above, was born on August 9th, 1896 in Strawn, Illinois and died on November 18th, 1948.
75 years before Goembel Instruments was founded W. P. Goembel headed Goembel Aviation. He co-founded a small aerospace business, developed aerospace hardware, and was an inventor. Goembel started his career in aeronautics 14 years after the Wright brothers flew the first airplane.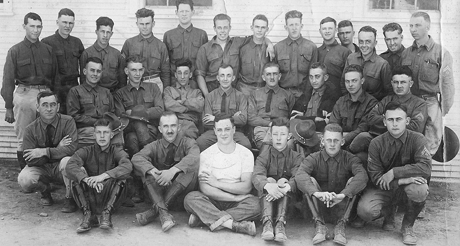 W. P. Goembel appears with the other pilots-in-training from Illinois in the above photo of his class of the 20th Aero Squadron (second from left, second row). He was the son of a farmer and was working as a schoolteacher before volunteering for the Air Corps. He entered the U.S. School of Military Aeronautics at Cornell University, Ithaca New York December 15th, 1917 and graduated on March 2nd, 1918. After training at the Air School at Wichita Falls, Texas, he qualified as a reserve military aviator and was recommended for pursuit pilot, July 13th, 1918. He learned to shoot plane mounted Marlin, Lewis, and Vickers machine guns at Air Service Armorer's school in Fairfield, Ohio from August 13th to September 20th, 1918.

He was unable to ship to France with the rest of his class because he was stricken ill during the influenza pandemic of 1918, just before his class left for the war. After he recovered, he continued his service and went on to Arial Gunnery School, Rockwell Field, San Diego CA where he entered in his pilot's book training such as "dual and solo landings", "solo and dual stunts", and "aerial gunnery". Above are some gun camera photographs that he pasted in a scrapbook of photographs he took during training. He completed training there on Oct. 3rd, 1919 and became a member of the Air Corps reserves. Below are his wings, insignias, and identification bracelet from his service in the Air Corps.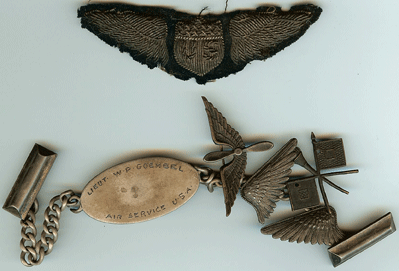 He made his first civilian flight in a Curtis Canuck (JN-4C) June 6th, 1920. He carried passengers for a fee, performed aerial stunts for spectators. His pilot's book includes entries such as "stunts over picnic (1 Immelmann, 3 barrel-rolls, 1 loop) $15". He would also pilot a plane for wing walkers, as evidenced in the poster that promotes George "T" Wright's wing walk (while handcuffed) and parachute jump.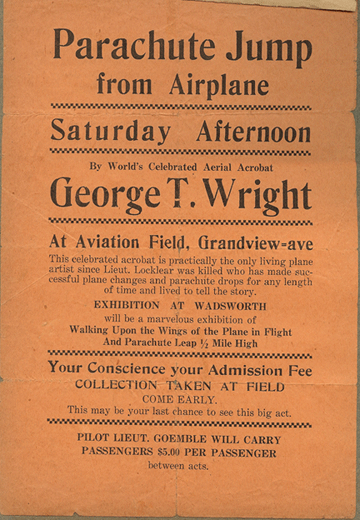 The book Images of America: Chippawa Lake Park contains a photograph with the caption "In 1921, ex-army pilot Captain Philip Goembel established a flying field on the west side of the Lake. Goembel and his brother John gave flying lessons in surplus 'Jennys,' offered passenger rides, and operated a boat between the park and the little airport." [David W. and Diane DeMali Francis, Images of America: Chippawa Lake Park, Arcadia Publishing, 2004, p. 35]
Sometime before July, 1922 Phil Goembel founded Goembel Aviation Company, as evidenced from a letter from the Corlett Aero Map Company of Cleveland, Ohio. The letter refers to a contract between Goembel Aviation and Corlett Aero Map and details specifications for photographs that are to be taken.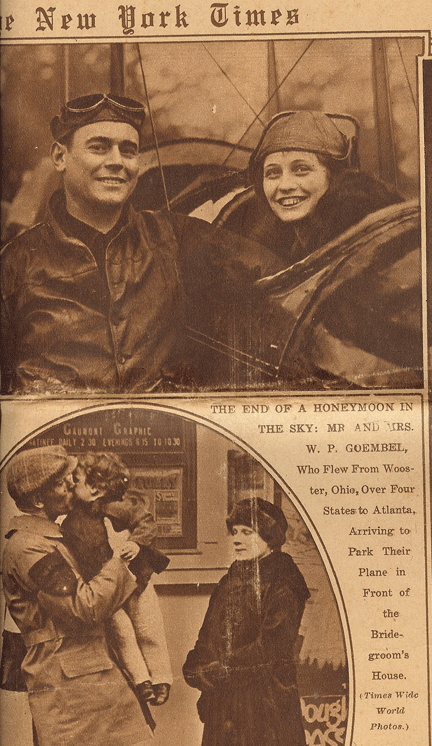 In 1922 he married and had an "aerial honeymoon." A photo of the couple appeared in the New York Times Rotogravure Picture Section, Feb. 18, 1923. He and his wife made a well-publicized flight from Wooster, Ohio to Atlanta, Georgia. In Atlanta, W. P. Goembel studied engineering at Georgia Tech and then he continued his graduate studies in aeronautical engineering at MIT. He is listed as a graduate student at MIT in a 1925 yearbook.
Sometime after 1925 he returned to Ohio and worked for Advance Aircraft Company of Troy, Ohio. About 1926 Goembel teamed with Maurice Koehler and co-founded the Massillon Aero Corporation, which eventually became the American Aircraft Corporation. Ultimately, they would produce the Starwing airplane that he designed. The Starwing, in construction, is shown below.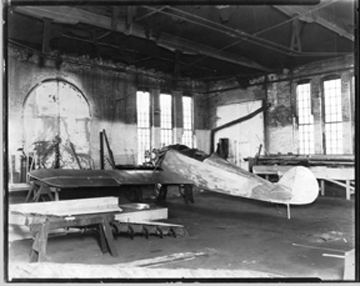 On February 3, 1928 The Evening Independent of Massillon OH, reported:
"The first plane being built by the Massillon Aero Corporation in a room of the former Russell and Company plant, Erie Street, S. is being rushed to completion and is expected to be ready for tests in March. The plane of low wing monoplane type, will eventually be the 'flivver' of the air, its manufacturers say, for the low cost of construction will enable it to be sold on the market at a lower price than other planes of the modern air cooled motor type. With a wing spread of 30 feet, and a total length of 20 feet, the plane, propelled by a five cylinder radial air cooled motor will be able to carry two passengers through the air at a speed of 90 miles an hour, it is said, with the motor developing between 50 and 70 horsepower. A feature of the machine, which has been designed for sport, training, freight and passenger carrying, will be its ability to land at low speed, which its manufacturers believe will make it popular in aviation circles. The plane is being built with steel tubing in the fuselage and control services, and wooden wings. Four men under the direction of W. P. Goembel have practically completed the construction of the fuselage and are now building other parts in an effort to complete construction by March 1."

W. P. Goembel appears third from the right, along with the rest of the Starwing team, in the above photograph.
In a May, 1929 article the Starwing is featured in a discussion of, among other things, the advantages and disadvantages of a low wing airplane design. The author writes: "For example, we will study the specifications and photographs of an interesting light plane, the Starwing, built by the American Aircraft Corporation" [Alexander Klemin, "Learning to use our wings: Latest facts about airplanes and airships," Scientific American, Vol. 140, No. 5, May, 1929, p. 454]. An description of the Starwing, the American Aircraft Corporation, and W. P. Goembel's involvement in their creation appears in "They Walked on Wings: A History of Early Stark County Aviation" [Robert L. Burwell II, 1988, Saracen Publications].
When the Great Depression hit in 1929 the American Aircraft Corporation failed. W. P. Goembel, his wife and two children moved from from their home in Massillon to live in a summer cottage they kept at Chippawa Lake, Ohio. Goembel flew passengers for a living until he took a manufacturing job that was unrelated to aviation in 1935. In 1936 the family moved to Dundalk, Maryland (adjacent to Baltimore, Maryland) after he found employment as an aerospace engineer at the Glen L. Martin Company.
During World War II, his son, John Troutman Goembel was drafted. W. P. Goembel's son served as a .50 caliber machine gunner in Companies A and D of the 254th Infantry Regiment, 63 Infantry Division and fought starting at Hill 216 then Jebsheim, France, in January, 1945. He fought until the war in Europe ended, and was awarded a Bronze Star, a French Croix de Guerre with Palm, and a Presidential Unit Citation. John Troutman Goembel is shown in the following photograph (second from right) that is marked on back: "Gunning, Haugens, Goembel, Rothenburg May 1945."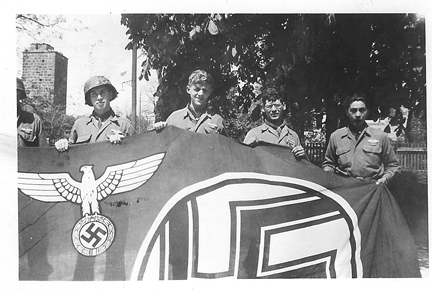 John T. Goembel returned to Dundulk after the war and went to art school on the G. I. Bill. He got married and raised three children, one of whom went on to found Goembel Instruments.
Little is known about W. P. Goembel's work at Glen L. Martin Company. He continued aerospace innovation on his own, as evidenced by his filing for a patent in 1946.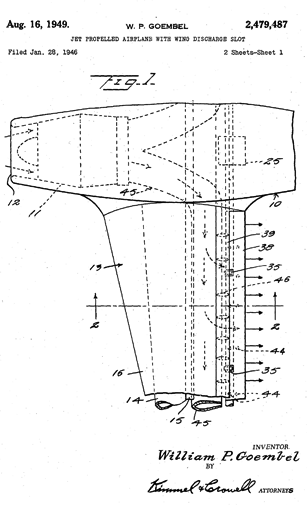 The patent, issued in 1949, is for a "Jet Propelled Airplane with Wing Discharge Slot" [U.S. Patent 2,479,487]. The patent was issued after W. P. Goembel died November 18, 1948. His death was unexpected (it was due to complications after a routine surgery) and his son paid the attorney's fees and patent fees to see that the patent was issued even though he had no training in, nor more than a layman's interest in, aerospace himself. Significantly, three of the four patents that reference W. P. Goembel's were issued at least 50 years after his death, and the latest patent that cites his is from 2011.